June 8, 2022
In 2019, The Benchmarking Company surveyed beauty consumers about sustainability and packaging choices. Results showed that electing to make cleaner or sustainable choices was somewhat important, but the commitment to buying green and sustainable products wasn't paramount.
Now, after two pandemic years, we asked more than 2,000 female identifying beauty consumers about their attitudes and practices surrounding sustainable beauty product ingredients and packaging to see if, and how far, the needle has moved toward a greener future. Here's what we learned.
Sustainable Beauty Attitudes: 2019 vs 2022
Three years ago, 58% of consumers surveyed told us it was extremely important that the beauty and personal care products they purchase are sustainable. Today, 64% say sustainability is very important when considering the purchase of a beauty product.
Twenty percent look for sustainable packaging, 25% look for sustainable ingredients and 38% search for formulas that are clean/free of harmful chemicals. When asked what sustainability means in relation to beauty products, most consumers refer to products that are made with ingredients that are renewable/replantable/sustainable (T-1).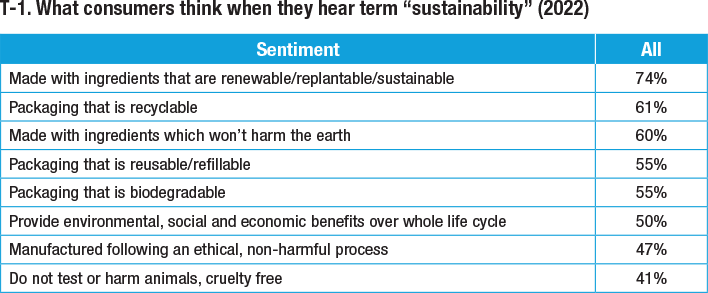 Interestingly, the most important attributes for sustainable beauty brands didn't change much between 2019 and 2022. Today, the most important attribute for a sustainable brand is that it doesn't harm animals/is cruelty-free, just as it was three years ago (T-2).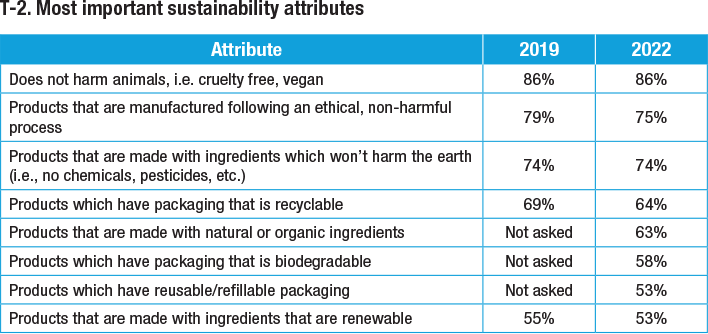 However, even though consumers say sustainability and protecting the environment are important, most aren't doing much by way of research to learn about the manufacturing practices of the beauty brands they buy. Only 20% say they always research manufacturing processes, 55% say they sometimes do this research and a quarter say they flat out don't do any background investigation into sustainability practices at all.
When consumers are looking for information on manufacturing processes and sustainability, most turn directly to the brand via their website (T-3). They also read/look on packaging for information and search online.

Additionally, 53% of consumers told us they specifically look for labeling on beauty product packaging to indicate that the product inside is made with sustainable ingredients.